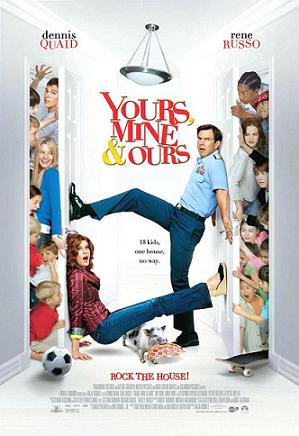 Yours, Mine, and Ours is a 2005 American family comedy film directed by Raja Gosnell. The film stars Dennis Quaid and Rene Russo. The film was released on November 23, 2005 and was produced by Nickelodeon Movies and distributed by Paramount Pictures, Metro-Goldwyn Mayer Pictures, and Columbia Pictures. The film was released on DVD by Paramount Home Entertainment on March 28, 2006.
High school sweethearts, Frank Beardsley and Helen North are renuited when Frank and his family of eight children move back to his hometown of New London, Connecticut and get married as Frank's eight children dislikes Helen's dysfunctional family of 10 children. The new family move into a lighthouse as the now 18 children dislike each other because of the way the two different families' live and then they work together to break their parents' up by doing the things that bothers time the most like Frank not liking the idea of no rules and Helen having no rules or having their kids live like military brats.
Beardsley Children
Edit
North Children
Edit
Soundtrack
Edit
Hawk Nelson performed a song for the soundtrack titled, "Bring Em' Out" which features Drake Bell, who portrays Dylan in the film.